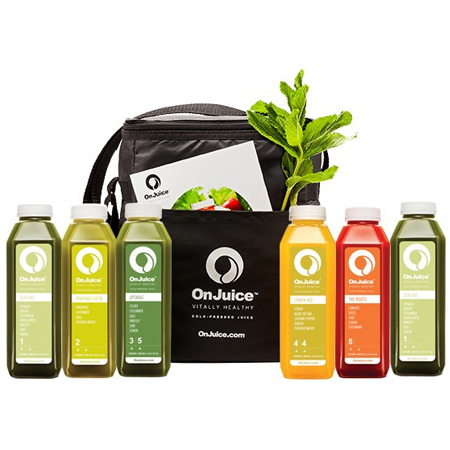 BROUGHT TO YOU BY THE CREATORS OF DELIVERLEAN, ONJUICE IS A LINE OF VITALLY HEALTHY COLD-PRESSED FRUIT AND VEGETABLE JUICES AND DETOX CLEANSES.
Made fresh daily and delivered nationwide direct to consumer via www.OnJuice.com, or as part of a DeliverLean meal plan, OnJuice boasts 11 flavors, 10 specialty cleanses and 2 basic cleanses. OnJuice can also be found at a variety of hotels, spas, gyms and retailers in South Florida including The Gale Hotel, The Palms Hotel, Exhale Spa, Pura Vida and others.
In June 2014, parent company DeliverLean will launch their first OnJuice BAR and healthy grab-and-go café at the Aventura Mall in Aventura, Florida.
OnJuice BAR will featuring OnJuice cold-pressed juices, signature smoothies, antioxidant acai bowls, a full line of DeliverLean salads and a healthy snack line for kids. At the OnJuice BAR, DL Snacks by DeliverLean will be introduced for the first time as part of their national dehydrated snack line rollout. DL Snacks raw vegan snack line will include Cheesy Kale Chips, Raspberry Lime Kale Chips, Sweet Potato Chips, Cauliflower Popcorn, Onion Rings and more. All DL Snacks are made with organic ingredients and are slowly dehydrated under 115 degrees to maintain maximum nutritional value.
OnJuice BAR is located at 19501 Biscayne Blvd., Suite #K1930 in Aventura, FL 33180 and is centrally located in front of the children's playground, next to Puma, Crocs and Lululemon.
Store hours are 10:00am – 9:30pm, Monday – Saturday and from 12:00 – 6:00pm on Sundays.
To view the OnJuice BAR menu, please click here.
For more information regarding the OnJuice BAR in Aventura Mall, call 305.704.8210 or email candy@onjuice.com.
For general inquiries about OnJuice, call 800.495-5008 or email info@onjuice.com
For information on wholesale accounts, email wholesale@onjuice.com