OUR STORY
DeliverLean started in 2011 with the mission of offering nutritionally-balanced meals to our South Florida community. We are now ranked No.607 on the 2021 Inc. 5000 list of fastest growing companies in America. We operate a portfolio of brands with a shared goal: to provide our clients with a seamless and delicious food solution that improves their bottom line, customer satisfaction, and overall operations.
Meet Our CEO
We are proud to maintain the highest food safety rating at our 65,000-square-foot South Florida production facility. Not only are we SQF audited-, USDA-, and FDA-certified, but a 24/7 on-site USDA inspector guarantees that we always meet rigorous safety standards for full ingredient traceability and peace of mind.
Our culinary team seeks only the highest-quality, freshest and cleanest ingredients to prepare our meals entirely from scratch every day. We believe that thoughtful sourcing is the first ingredient for a healthy meal, and choose our purveyors carefully.
Our team of Executive Chefs and Registered Dieticians have decades of culinary experience and expertise with international ingredients and techniques. We constantly innovate our menus to wow your taste buds with unique dishes and elevated familiar favorites.
The DeliverLean Foundation is on a mission to help the most vulnerable and underserved populations in our community. We have delivered over half a million meals to families in need during the COVID-19 pandemic, hurricanes, and other crises.
Our Vision
Our 300+ person team is united around the mission to help people feel their best by offering premium food that tastes great. From thoughtfully produced grab-and-go meals for hospitals, retailers, and airports to medically-tailored meals for healthcare members, every bite from our SQF/USDA-certified facility puts quality, flavor and your health first.
Recognition
DeliverLean was named No. 607 on the Inc. 5000 list of fastest-growing private companies in 2021. Our three-year revenue growth of 795%, impressive team expansion, and extensive outreach efforts during the COVID-19 pandemic allowed us to land in the top 12% of this prestigious list.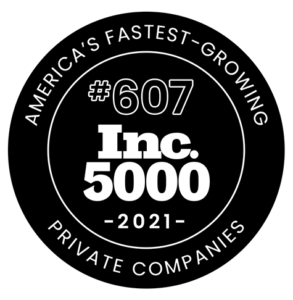 Since I started the business,
DeliverLean's incredible expansion would not have been possible without the unwavering support and belief of all our passionate employees. And the exciting part is that we are just getting started. Every day, we work together to make great food accessible, convenient and delicious for our clients and their customers.